Many people in the Cranberry Township area are still working at home.  Chances are you did not have the foresight to fit out your home with the same office set-up as you had in your office before COVID struck. As we head into fall, it is becoming clear that some things – like working in an office like we used to do are just not going to happen soon.  This is the first in a series of posts on what you can do to improve your work experience from home.
One of the things that I often am asked is should I consider a standing desk? 
I am sure that you have heard that sitting is the new smoking.  Clearly, we sit too much if we are doing office work all day long. This was true when you were working in an office.  But you probably got up to go to meetings and the like.  Now those are from your desk as well.  Many of our patients that now work virtually are suffering from sitting too long and staring at virtual meetings.  Now might be the time to consider a standing desk for your back.
There are a number of factors that you need to consider in choosing to use a standing desk and how frequently you use it.
First, if you are looking solely for weight loss, Harvard did a study a few years ago and found that you will not burn a significantly greater number of calories by standing.  They recommended a 30-minute walk at lunchtime. 

Harvard Medical School
This is something you can certainly try to add to your daily routines if you are working at home now that it is dark in the morning before the start of the normal workday,
But there are other reasons to get up and move during your workday.  Many of my patients exercise regularly, and that's great.  However, it does not overturn the harmful effects of prolonged sitting. Here are a few other health issues that can be impacted negatively by your increased sitting from being stuck in a virtual office:
Increased Neck Pain
Shoulder pain
Low back pain
DVT (deep vein thrombosis)
Sciatica pain – (pain down either leg)
Cardiovascular conditions
How to transition
If you are looking to lower the stress from sitting all day on your lower back and other parts of your body, then there are some things that you should keep in mind before you act on the change.
Don't move to stand full time immediately.  Start out slowly perhaps 10 minutes per hour for the first two weeks.  Then move to 15-20 minutes for the next two weeks.  And finally, move to about one-third of the time after a month. Back when you were in our office, you probably spent a lot of time meeting with others.  Now those meetings are on Zoom or some other conferencing medium. So this is a way to get out of the chair, but make sure your screen background is still good when standing.
What do I need to use a standing desk 33% of the time?
The first thing you will need is a sit to a standing desk.  There are a number of items that you can use on your desktop that will facilitate that.  It is best to get one so that you can adjust so that you can use it in a variety of positions.  You can find these on-line easily at Amazon or Walmart, but as a local business owner, I hope you can find a local business that sells items like this.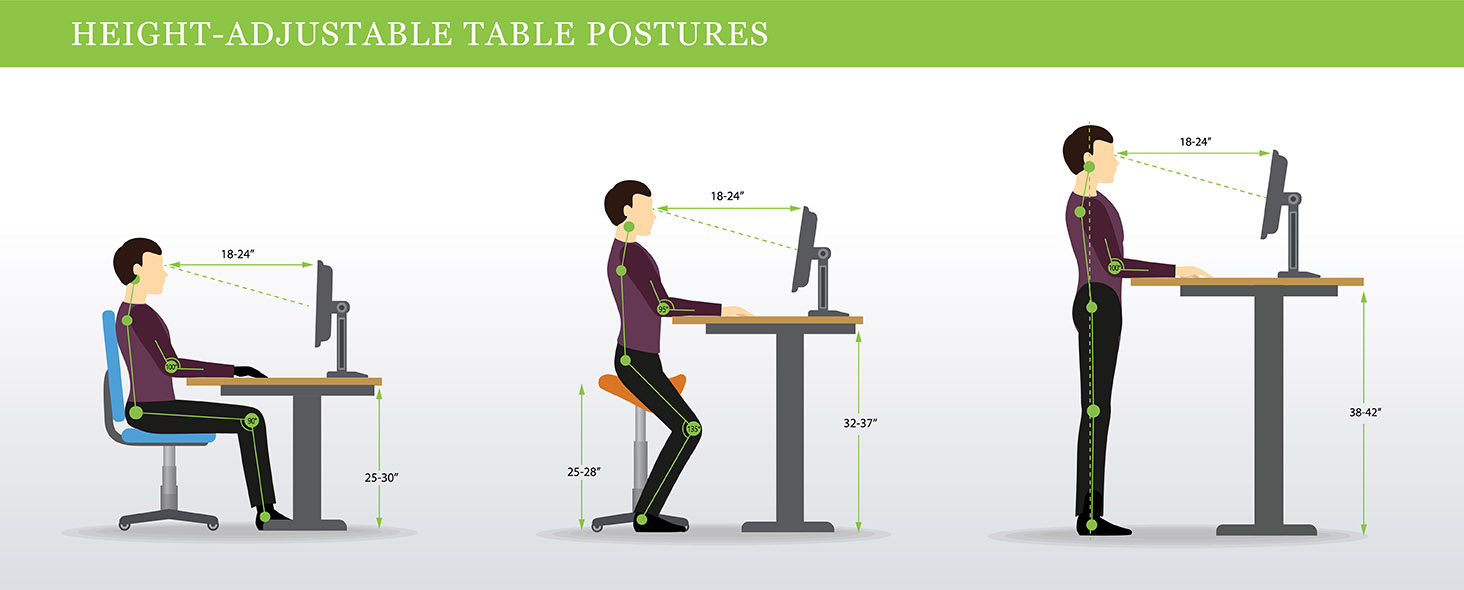 In addition to the adjustable desk, you should also consider the shoes that you are wearing – it is time to retire the flip flops from the summer anyway.  If you like at Zock, we can fit you for orthotics.  Pay attention to the surface of your floor. If your desk chair is on a hard surface plastic matt, you will need an option that has more cushioning for your feet. Also, pay attention to your posture. As you can see in the above illustration, you might want to consider an interim step as well for better core strength development like an adjustable backless chair – there are some made using Bosu balls.  Your shoulders should be back and down and your chin positioned so that your head is centered over your shoulders.
How can Chiropractic help?
If you find that you are suffering from headaches, shoulder aches, numbness in your hands or feet, pain radiating down your left leg our right leg, and – or lower back pain, we can help you get relief from those conditions.  Contact us today for an appointment. 
* This information has not been evaluated by the Food and Drug Administration. This information is not intended to diagnose, treat, cure, or prevent any disease. Please contact a medical professional for advice.
Make An Appointment
At Zock Family Chiropractic we are here to help you and are happy to process your appointment request by email if that is your preference.  Please indicate if you need Chiropractic care or are scheduling a massage appointment in your request and we will get back to you within one business day of receiving your request.