Being an expecting mother is much more difficult than it may seem. Your body is rapidly changing in a physical manner. Hormones seem to run wild as you begin to feel more emotion than before. You may feel like your existence comprises of hunger, soreness, and aching. Many expecting mothers feel they have to just deal with these symptoms. But did you know chiropractic care can help relieve them tremendously?
During your first visit, Dr. Zock will complete detailed patient history and conduct a comprehensive examination. The exam may include a postural assessment, gait analysis, neurological evaluation, and orthopedic testing. Dr. Zock will review her findings with you, ensure you have a thorough understanding of your symptoms/condition, and will discuss your treatment options.
If Dr. Zock determines that chiropractic care can help your symptoms and/or condition, you will be treated following the examination. You may be referred for further testing and/or imaging if necessary. Zock Family Chiropractic understands the value of your time. We will do our best to keep our patient wait time to a minimum. Please arrive at least 10 minutes before your first visit to complete the required paperwork.
Please allow 30-60 minutes for your initial visit.
Subsequent visits may take 15-30 minutes depending on your condition and treatment plan.
Expecting Mother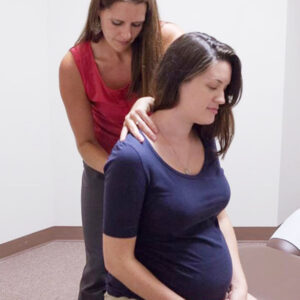 If you're an expecting mother, Dr. Zock evaluates the changes to your body during pregnancy. And she offers chiropractic care throughout. Adjustments will relieve and often prevent these common discomforts. Specific spinal corrective adjustments and soft tissue release will reduce the stress to your spine and pelvis.
Continuing Chiropractic Care After Birth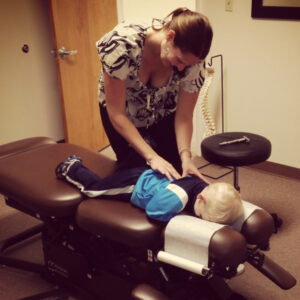 The majority of a body's neurological development occurs during the first six months of life. This is a perfect time for gentle adjustments to improve the nervous system and general health. The nervous system controls everything in the body, including development and healing. Children have many challenges as they develop. Chiropractic care has been shown to reduce symptoms associated with colic, reflux/spitting up, and torticollis. It also helps with constipation, asthma, ear infections, headaches, scoliosis or any kind of physical developmental issue. Dr. Zock provides a gentle stress-free experience for both the baby and mother.
At Zock Family Chiropractic We Specialize in Treating Pregnancy
My name is Dr. Kerstin Zock has I bachelor's degree in biology from the University of Pittsburgh, a doctorate in chiropractic (DC) and am also certified in the Webster Technique. I have worked with countless expectant mothers throughout their pregnancies. Contact me today to set up a completely free assessment of your pregnancy thus far and let me help you in having a safer and easier delivery!
* This information has not been evaluated by the Food and Drug Administration. This information is not intended to diagnose, treat, cure, or prevent any disease. Please contact a medical professional for advice.