We have been reviewing where you should sit in your home while working at home and even asked if you should be sitting at all.  But this week I want to do a deeper dive into what to look for in a home office chair.
There are lots of considerations in a chair and lots of advice on the Internet on what to get.
Lots of this advice is from people trying to sell you a chair. Features to look for include adjustable arms, built-in lumbar support, height adjustment, and depth adjustment.
Starts with your posture
You need to have your computer monitor(s) placed so that you can keep your back straight and head at a comfortable viewing angle.  Your eyes should be looking at the top of the monitor 18 to 24 inches away from your head.  If you are older and are wearing bi-focal lenses you might want to get computer glasses. This way your head is not tilted at an unnatural angle. Ensure your hands rest comfortably on the desk, so you are not putting stress on your wrist. Make sure your back is supported by the chair and your feet should be on the floor.  You can see in the image below that we used two weeks ago for the height-adjustable desk the proper positioning.  Try to create 90-degree angles at the waist and knees.
If you are using a computer most of the day it is likely that you are not using the arms of the chair much.  That will factor into what you need for a desk chair while working at home. Being able to pull your abs in and strengthen your core while you are working is key so you can keep your back pain free.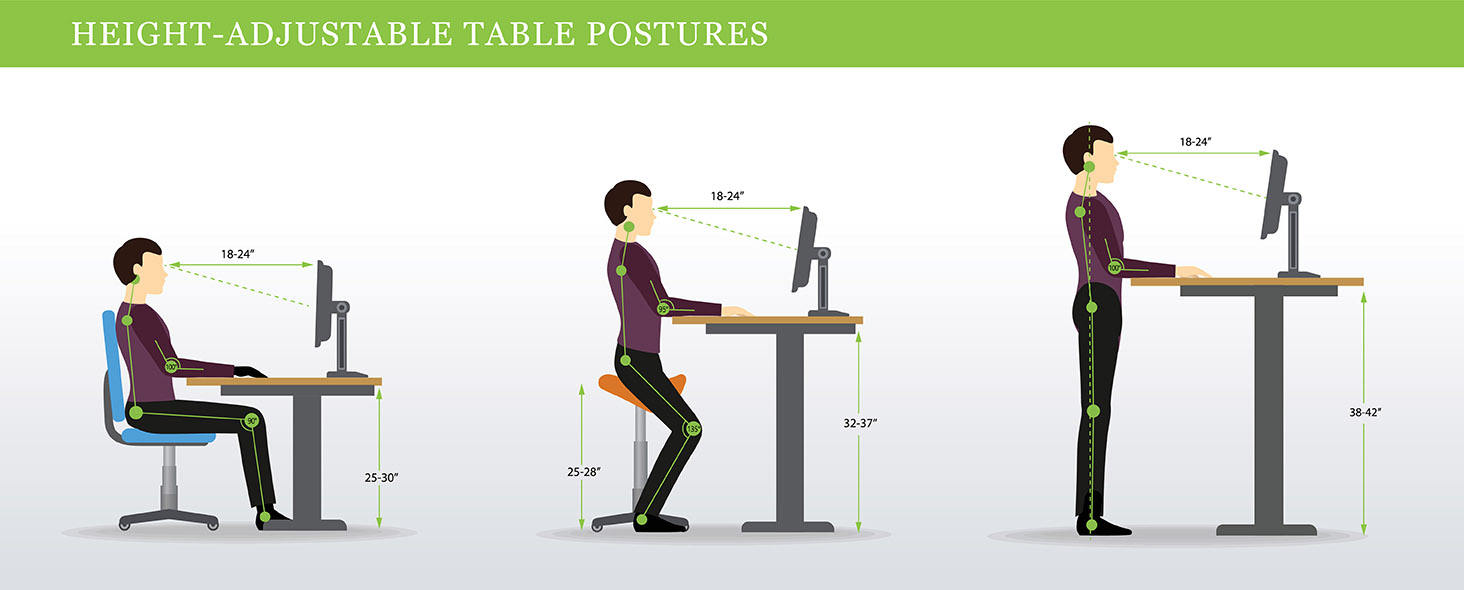 Choosing a home office chair
You can see from the image above and my description that a desk chair is not a one size fits all item.  What works for you will not work from your husband in all likelihood. Maybe you can throw him out of your office and have him work in the dining room. Have him give you your chair back if it is a good fit for you.
You want to be able to sit upright and comfortably for the long hours that you are working.  This will minimize the negative effects on your body and reduce your pain risk significantly.  I recommend that you visit an office supply store that has a good selection of chairs and try the chair the way that you will be using it at home.  NY Magazine published a review last month of the best office chairs in 2020 at a variety of price points. Use this as a starting point.
This is a great time to shop locally.  I am not dissing big box stores and you might find what you are looking for locally in Cranberry Township. There are a number of locally owned office supply stores in Pittsburgh. These stores have the staff that can assist you in making the right choice for your needs.
We are here to help
Getting your life back to normal and feeling great is what we want to help you with. Please visit this page to make an appointment.  I love talking to you while you are here about how you can cope better with the new normal that we are living with.
* This information has not been evaluated by the Food and Drug Administration. This information is not intended to diagnose, treat, cure, or prevent any disease. Please contact a medical professional for advice.
Make An Appointment
At Zock Family Chiropractic we are here to help you and are happy to process your appointment request by email if that is your preference.  Please indicate if you need Chiropractic care or are scheduling a massage appointment in your request and we will get back to you within one business day of receiving your request.